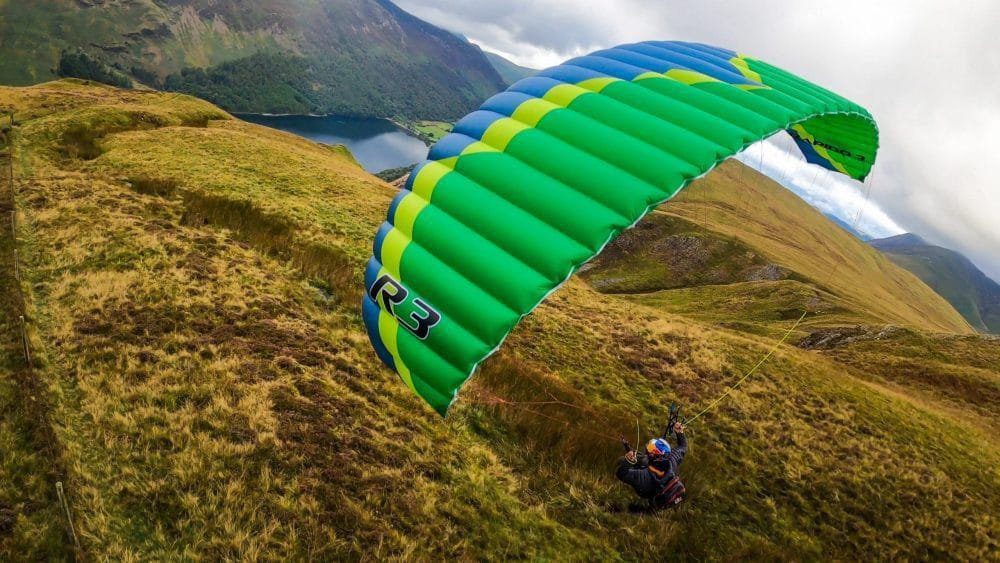 It can be incredibly difficult to buy Christmas presents for anyone these days, however, if you're looking for the ideal gift for a paraglider pilot, we're here to make that job a lot easier. At
Paraglidingequipment.com
, we're all avid paragliding enthusiasts, so we know exactly how exciting it is to unwrap some new paragliding equipment on Christmas morning.So, whether you're talking about the newest harness or swing launch, we offer an essential range of paragliding gear that will undoubtedly put a smile on their face, as well as serve them well and keep them safe when they're engaging in their favorite hobby.So, let's have a look at just a few of the things we have in store…
The Ozone Road Runner Glider
If you're buying for a paragliding newbie this Christmas, then you're in luck, as the very best gift ideas for beginner pilots always relate to helping them perfect their skills. The
Ozone Road Runner
glider is the perfect choice for those just starting out in the pastime as it's ideal for practicing outside of paragliding lessons. It's kind to your pocket too, with a small and simple design. Just remember that this one is for practice ONLY, not for actual flight!
The NEW Syride XL
There certainly are many variometers available for sale during the holiday season, so it can be hard to decide exactly which one to go for. However, the NEW Syride XL variometer is definitely one we'd recommend, as it's light, versatile, and has this great feature to be attached to the riser for a better view. This means that it's ideal for several different pilot levels from beginner to advanced pilots. This particular variometer also offers better screen viewing. So your gift will not only delight the recipient but also keep helping them through their progressions!
The NEW Ozone Easy Bag light
Every pilot needs a good quality paragliding bag and perhaps our most popular is the
NEW Ozone Easy Bag lihght
. It's literally exactly how it sounds – completely easy to use. Whilst other paragliding bags have all kinds of compartments and straps, zippers, and buttons, this bag is simple and straightforward. It's a giant sack that can be filled in minutes and is ideal for pilots who just want to get to their destination and fly, without messing around.
The SUPAIR Radio Pocket
Every pilot needs a radio to stay safe when they're flying, however, they can be pretty pricy – certainly too expensive for a Christmas gift! An affordable alternative is to wrap up a radio holder called
The SUPAIR Radio Pocket
, which is one of the most popular styles available. It attaches to the harness providing excellent audio since you can attach it very close to the pilot head on the harness. The neoprene material provide great protection from scratch for your radio
The NEW SUPAIR helmet with visor
This exceptionally popular helmet is Designed for cross-country and long flights, its category 3 visor protects you from the sun and generates less fatigue in flight thanks to the absence of relative wind on the face. Perfect aerodynamics, flexibility, and comfort – and that's just naming a few of their desirable qualities. Buy this helmet as a gift and you'll see the delight in the eyes of the recipient!
Come and Check Our Full Range!
The products mentioned above represent just a fraction of the paragliding equipment available on our site and if you'd like to see our entire range in all its glory, why not take a look around our website
www.paraglidingequipment.com
. There you'll find many potential gifts for paragliding pilots this festive period. Who knows, you might even find something there for yourself!If after looking through our extensive range, you need some advice on choosing the right equipment for your own particular needs, you should get in contact with our helpful team either by calling us at (917) 359-6449 or by filling out our contact page
CONTACT US
All that remains for us to say is that whatever you get up to this Christmas, be it airborne or otherwise, we hope you have a fabulous time of it. Thanks for reading and we'll be back again soon with more from the exciting world of paragliding.