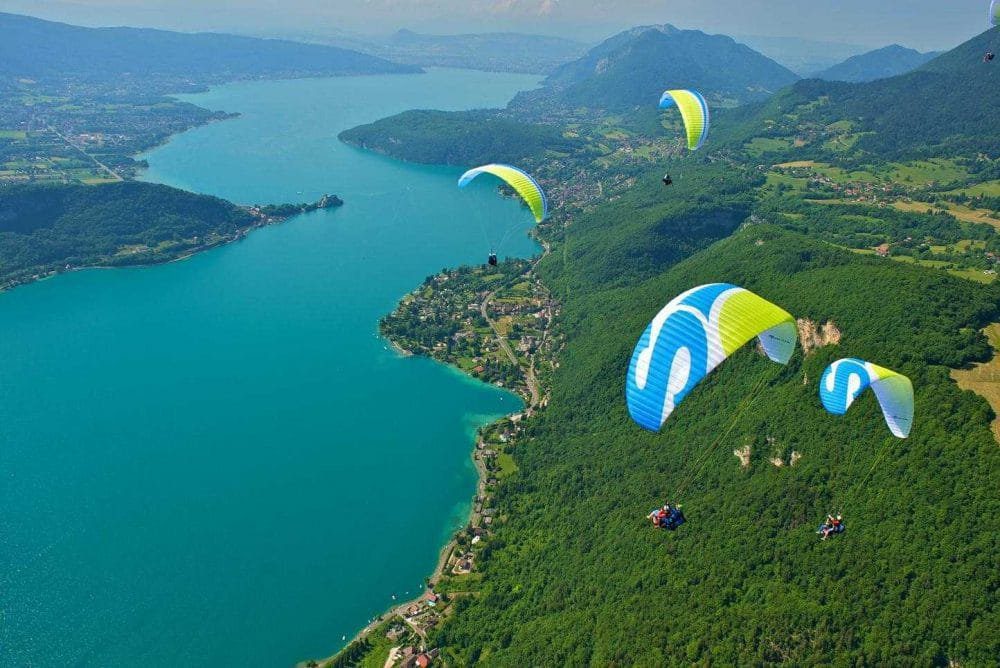 Valuable tips to choose your paraglider and actually enjoy flying
Every pilot has to face this decision at some point: What are the best wings for me? With so many options and opinions out there, choosing your paraglider is no easy task. That's why we've put together this blog post with six valuable tips to help you choose your paraglider.
Tip #1 – Evaluate your ability and experience
When it comes to choosing your paraglider, one of the most significant factors to consider is your ability and experience as a pilot. While advanced pilots might look for better performance and speed, every other pilot should think stability first. 
With a fair evaluation of your skillset, it will be much easier for you to narrow down your paragliders' options. You'll be able to get a paraglider that's within your class.
Tip #2 – Choose your wings' classes
First wings: perfect paraglider for first-time pilots and beginners. The wings in this class have wide cell openings, easier handling, and inflation.
Progression wings: designated for pilots that feel ready for their first upgrade. It's a step up from the first wings with slightly longer lines, but it's reasonably easy to fly, and it's safe.
XC Class: these wings require experience and some good piloting skills to control it. The XC class wings have longer lines, more cells and narrower cell openings which gives you better performance, handling, and sharper turns.
Performance class: created for experienced pilots, the wings in this class are the perfect combo of performance, handling, and resilience because of the reduction in wing area and higher aspect ratio.
Advanced wings: as the name suggests, these wings are meant for advanced pilots. Unless your skills are up to par, it can be risky to fly with these wings. The high aspect ratio makes it challenging to launch it, and it's overall less stable. When flown at its best, these wings will deliver more performance.
Competition class: When you take part in a paragliding competition, and you need that competitive advantage, these wings can help you achieve the performance you envisioned.
Tip #3 – Consider weight and performance
Your weight and the weight of your equipment play a massive role in how to choose your paraglider. On average, the flying gear adds 20 kg onto your naked weight. When purchasing your wings, make sure you weigh all of that in.
Most paragliders reach a performance sweet spot when you are around 50 to 75 percent of the weight range. You should check with the manufacturer for their exact percentage. Also, depending on the flight conditions, it's better to be on the heavier side during tough conditions and lighter on more relaxed settings.
Tip #4 – Find the paraglider that makes you want to fly
Sometimes, it's better to choose a paraglider within a wing class below what you believe you can handle. It will give you room for mistakes and more confidence during the flight.
Make sure you take into account wing handling. It needs to fit your skills and respond to you the way you expect it to. That feeling of connecting with the currents while shifting, then getting just enough forward pitching when you approach thermal, amongst other details, is what you should look for in your wings.
Tips #5 – Test some options before choosing your paraglider
Though measuring the performance of a paraglider can be tricky, due to the inconsistency of the wind and circumstances, it's still important to try some wings before you get yours.
When you test, consider these points:
How was the take-off?
How did you feel during the flight?
The quality of the material
Performance under tricky conditions
Focus most of your attention on handling
Does it feel safe and comfortable?
Control, agility, feedback, and stability
Tip #6 – Watch someone else fly
You'll be shocked by how much you can learn from a paraglider by watching someone else fly it. Observe how smooth (or not) the flight it. Also, check out the height loss in comparison to other pilots around. When you watch from the ground, you'll get a different perception of the performance of the wings, and it will help you choose your paraglider.
With these tips in mind, choosing your paraglider will be much easier. Instructors and experienced pilots can also share their feedback to help you select your wings. Though there are many options in the market, it's important to find what's best for you. Ultimately, your paraglider needs to be an asset to your skillset as a pilot.