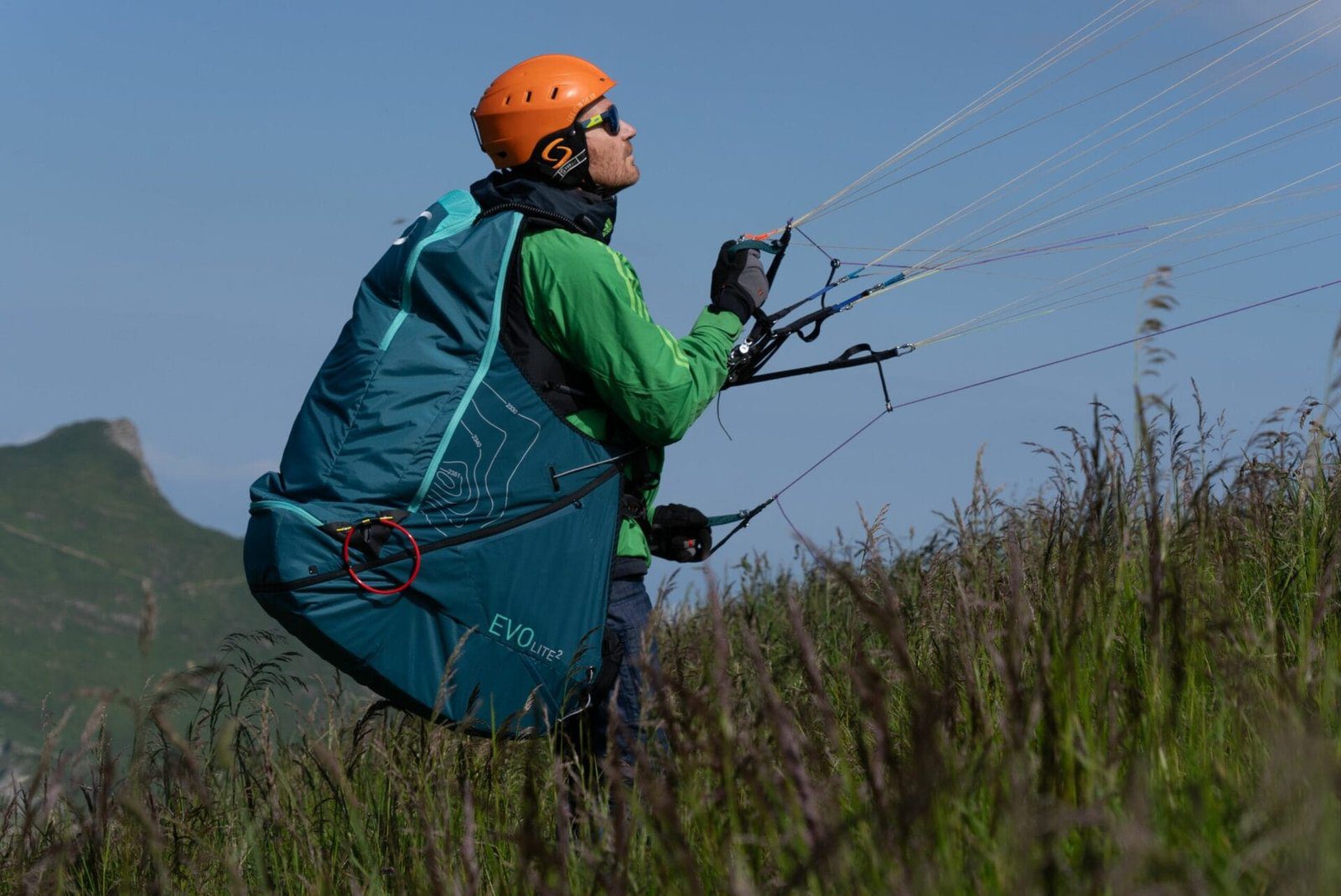 If you're reading this, you likely already know that paragliding is an absolutely thrilling sport — one of the only few that allows individuals to experience the freedom of flight while being surrounded by the beauty of nature. As technology advances, paragliding equipment continues to evolve, making the experience safer and more enjoyable. One of the latest innovations in the world of paragliding is the Supair EVO Lite 2. In this blog post, we'll take a closer look at this cutting-edge harness and explore why it's generating so much buzz among enthusiasts.
The Supair Evo Lite 2 is the latest addition to Supair's impressive lineup of paraglider harnesses. Designed with input from experienced pilots and meticulously engineered, this harness represents a significant leap forward in terms of performance, safety, and comfort.
A Harness Seat for Progress
After completing your training courses, the Supair Evo Lite 2 becomes the natural choice to continue your progress in flight. Its comfort and high passive safety features provide peace of mind as you hone in your paragliding skills. Here's what makes it stand out:
Compact Protection: The harness features a protection foam bag that's more compact than its predecessor, ensuring you're well-protected without sacrificing mobility.
Adaptable Back Pocket: The Evo Lite 2 comes with an adaptable back pocket, allowing you to customize your storage needs for instruments, snacks, or other essentials.
Comfortable Seat: Enjoy a comfortable seating experience even during long flights, thanks to the harness's ergonomic design.
Wrap-Around Geometry: The wrap-around geometry enhances stability, ensuring you stay in control, even in turbulent conditions.
A Harness Cocoon for Performance
What sets the Supair Evo Lite 2 apart is its versatility. With the speedbag module, it transforms into a harness cocoon that's perfect for cross-country flights. Here's why this cocoon configuration enhances your performance:
Reclining Comfort: Long flights become a breeze with a more comfortable reclining position, reducing fatigue and allowing you to focus on the joy of flying.
Easy Access to the Cockpit: Stay organized by having easy access to the cockpit, where you can install your instruments and keep your belongings within reach.
Protection from the Cold: The cocoon provides protection from chilly temperatures, ensuring you stay warm and comfortable during high-altitude flights.
Enhanced Performance: The cocoon configuration offers better aerodynamics, translating to improved performance and the potential to cover greater distances.
Tailored to Suit Your Needs
Whether you've just completed a cross-country race or the post-flight festivities are calling, the Evo Lite 2 offers a seamless transition. In seconds, you can replace your harness cocoon with a harness seat, ideal for socializing and relaxing. The attachment system, which consists of loops on each link and a single zipper, makes this transformation quick and easy—anywhere, anytime.
In essence, the Supair Evo Lite 2 is an evolutionary harness that can adapt to both cross-country and on-site flying. Its innovative cocoon module effectively gives you two harnesses in one, allowing you to switch configurations effortlessly. It represents a new generation of modular harnesses that maximize your flying experience regardless of the conditions. Thanks to its speedbag module, you can seamlessly transition from a harness seat to a cocoon in a matter of seconds.
The Supair Evo Lite 2 is not just a harness; it's a game-changer in the world of paragliding. With its adaptability, high safety standards, comfort, and performance enhancements, it's a harness that will take you on unforgettable paragliding adventures for years to come. Offering high passive safety, comfort, and versatility for cross-country flying and progression, the Evo Lite 2 is the go-to choice for pilots who want to do it all without lugging around multiple harnesses. So, strap in, switch configurations, and let the Evo Lite 2 elevate your paragliding experience to new heights, just in time for the fall season!