BGD DUAL 2 TANDEM Glider
The DUAL 2 is an entirely new design. It took us years of development and many prototypes to perfect, but we believe it is a significant leap forward from the original Dual, which itself was a benchmark EN-B tandem. It's a pleasure to launch and to fly, with light, intuitive BGD handling and an outstanding sink rate, making it a 'top of the stack' performer. Big ears are effective and easy to use, and we've added a new big-ears locking system.
We know commercial pilots need tandems that last well so we've made the DUAL 2 robust and strong, with durable cloth throughout and all-sheathed Kevlar lines. The trimmers have easy-grab plastic balls and easy to replace webbing.
We recommend the 38m² – medium size to pilots who weigh less than 75kg, naked.
With effortless launching and a smooth, relaxed feel, the DUAL 2 TANDEM performs in harmony with pilot and passenger
Three sizes 38m², 40m², and 42m²
Effortless two-step launch
Essential big ears blocker
Replaceable trimmers
Smooth relaxed feel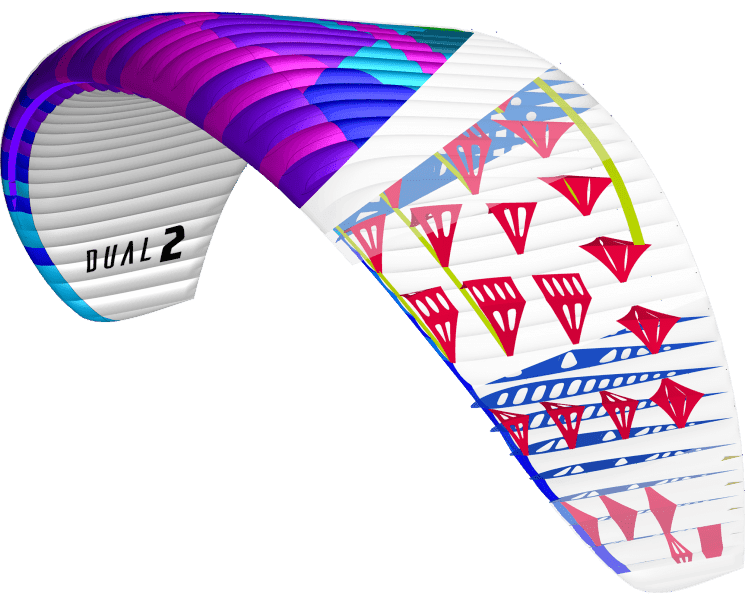 SPECS
38 / S
40 / M
42 / L
LINEAR SCALING FACTOR
0.95
0.98
1
PROJECTED AREA (M²)
32.3
34
35.7
FLAT AREA (M²)
37.8
39.8
41.8
GLIDER WEIGHT (KG)
7.4
7.5
7.9
TOTAL LINE LENGTH (M)
416
426
436
HEIGHT (M)
9.3
9.6
9.8
NUMBER OF MAIN LINES (A/B/C)
3/4/3/3
CELLS
52
FLAT ASPECT RATIO
5.5
PROJECTED ASPECT RATIO
4.1
ROOT CHORD (M)
3.31
3.4
3.5
FLAT SPAN (M)
14.5
14.8
15.2
PROJECTED SPAN (M)
11.5
11.8
12.1
TRIM SPEED (KM/H)
40
TOP SPEED (KM/H)
52
MIN SINK (M/S)
1
BEST GLIDE
9
IDEAL WEIGHT RANGE (KG)
130-180
140-190
150-200
WEIGHT RANGE (KG)
100-200
110-210
120-220
CERTIFICATION (EN/LTF)
TANDEM
Colors

TARGET
Remember that feeling, the first time your feet leave the ground and you are soaring, feet in the clouds, viewing the world from a different perspective? If you could bottle that feeling and share it around … that's what the DUAL 2 is for – sharing the joy of flight!
A clean take-off is absolutely critical to a safe and successful tandem flight. The DUAL 2 takes the load quickly and the short run required is a huge step forward for passenger safety. We've made the Dual 2 in three sizes: the 42m², 40m² and the 38m² covering all-up weights 100-220kg.
DESIGNER'S NOTES
With this project I wanted to make a tandem that is ridiculously easy to launch as not all passengers are willing runners, but I didn't want to sacrifice that light and sensitive handling that was so highly praised in the original DUAL. To achieve this we designed a whole new single plastic shark nose just for this wing. In the air the handling is a delight and thermalling is outstanding. The whole team are very happy with the outcome. It's a pleasure to fly, and a dream to launch: two steps and away!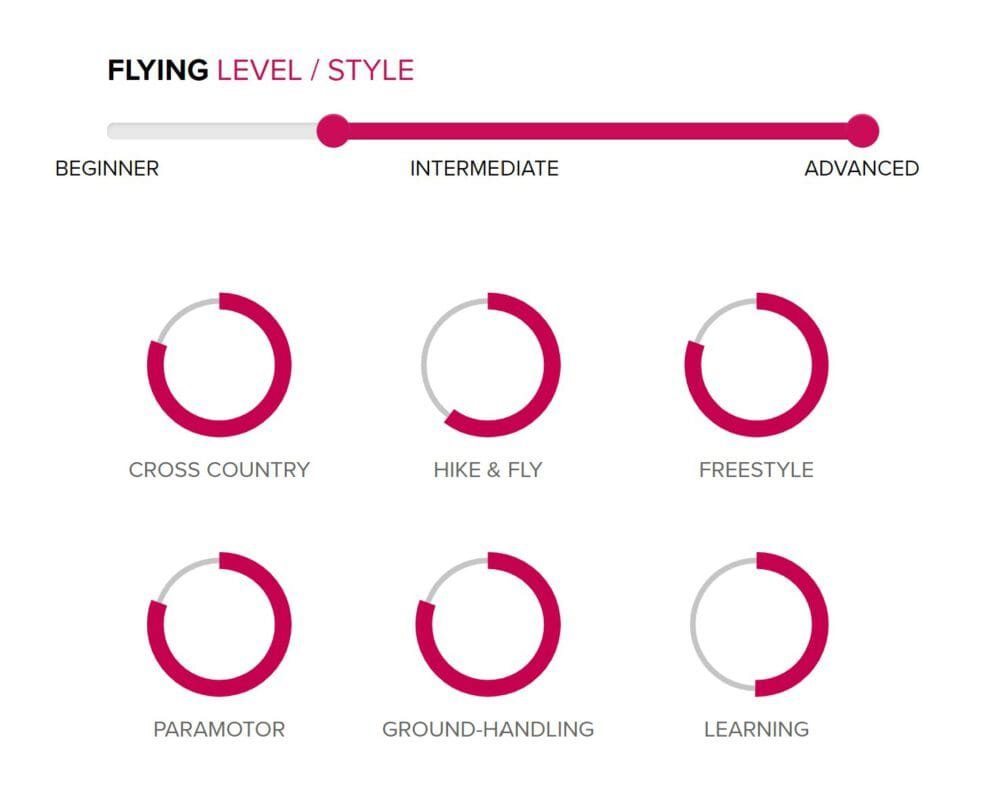 PACKAGE INCLUDES
Paraglider / Giveaway / Manual card / Stickers / Rucksack / Replacement Trimmers / Repair material / Stuff sack / Riser bag / Compression strap
MATERIAL
| | |
| --- | --- |
| TOP SURFACE | Porcher Skytex 38g/m² |
| BOTTOM SURFACE | Dominico D20 36g/m² |
| INTERNAL STRUCTURE | Porcher Skytex hard finish 40g/m² |
| NOSE REINFORCING | Plastic wire 2,0 / 2,5mm |
| RISERS | 20mm Kevlar / Nylon webbing |
| PULLEYS | Riley |
| TOP LINES | Liros DC |
| MIDDLE LINES | Liros TSL |
| LOWER LINES | Liros TSL |
DOWNLOAD