Roll over image to zoom in
Click to open expanded view
BGD Snug EN/LTF Harness – SNUG FITS LIKE A GLOVE
The perfect all rounder in a comfortable lightweight package.
Optimised for versatility and comfort, the SNUG is our premier recreational harness featuring a semi-cross brace system, our EASY EXIT reserve deployment system, a smooth aerodynamic shape, 18cm foam protection, and some vibrant new colour schemes. Weighing only 3.2-3.5kg, the SNUG is a stripped down, EN-certified harness that just performs really well.
Back Protection
CNC Laser Cut
Easy Exit
Semi cross-brace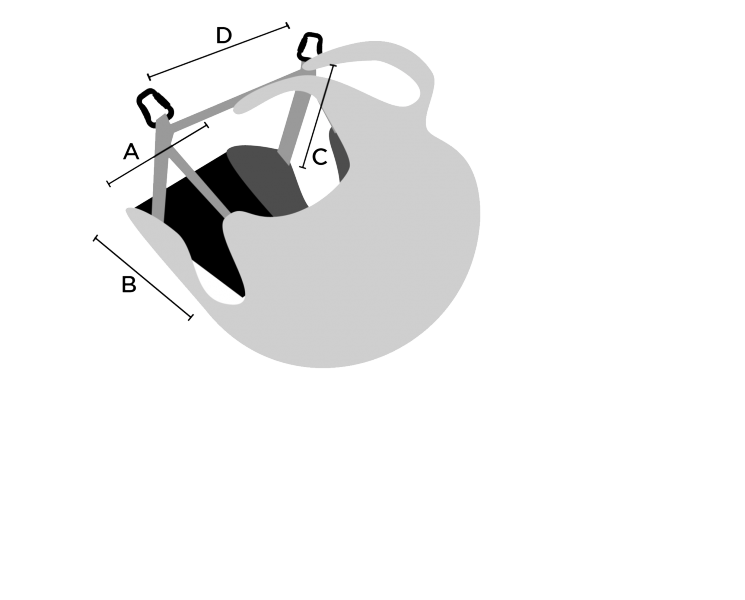 SPECS
S
M
L
PILOT'S HEIGHT RANGE (CM)
150-170
160-185
175-200
BOARD WIDTH (CM)
32.5
34.9
37
BOARD DEPTH (CM)
34.5
36.8
39
HEIGHT OF SUSPENSION POINTS (CM)
40
45
48
CHEST STRAP RANGE (CM)
38-43
40-46
43-49
HARNESS WEIGHT (KG)
3.2
3.3
3.5
CERTIFICATION
EN/LTF
COLORS
TARGET
XC, training, acrobatics, soaring, wagga, vol-biv, sledge rides – when it comes to free flying, the Snug harness is built to take on the full spectrum of aerial disciplines. Taken through the wringer by our test junkies, the SNUG is a durable, comfortable, and very safe harness. Bruce loves flying it XC, Ant takes it tumbling, and Tyr grabs it for a gentile sled ride down to the beach. If you only want one harness in your kit this should be it.
DESIGNER'S NOTES
I always wanted a harness that I don't feel. In the beginning, harnesses were divided into two categories: standard harnesses and ABS or cross-braced harnesses. The standard harnesses connected the pilot almost directly to the risers making them very unstable and too radical for occasional pilots. The fully cross-braced harnesses were too restricting; pilots couldn't feel an imminent collapse coming. The SNUG is my perfect balance; with the semi-cross brace system I feel seamlessly connected to my wing yet stable enough to relax.
MATERIAL
| | |
| --- | --- |
| OUTER SHELL | Nylon fabric 210D ripstop; Dominico Textile, South Korea |
| UNDER SECTION | Cordura ® 500D; C.F. Weber, Germany |
| KARABINERS | EDELRID GmbH & CO. KG, Germany |
| PULLEYS | Ronstan, USA |
| BUCKLES | AustriAlpin COBRA™ |
| WEBBING | Mouka Tisnov, Czech Republic |
| ZIPPERS | YKK |
| FOAM | Vita, Poland |
DESIGN FEATURES
Back Protection
An EN-certified lightweight foam back protection guards against mishaps on takeoff and in the air.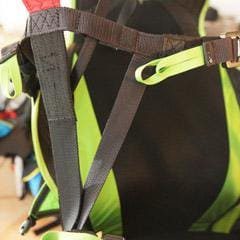 Easy exit
The EASY EXIT reserve system is a reliable reserve deployment system that is neatly tucked away under the seat of the harness.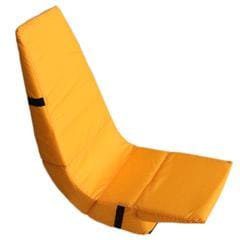 CNC/Laser Cut
CNC laser cut panels and sealed seams.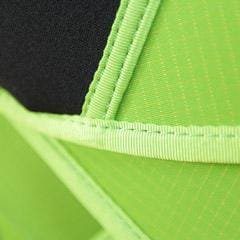 3D Shell
Abrasion-resistant 3D aerodynamic shell made of durable PU coated Nylon.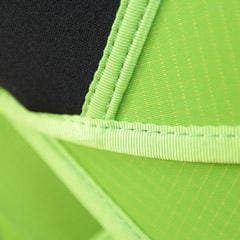 Deep Pockets
Deep side pockets for sandwiches, instrument, and on-route essentials.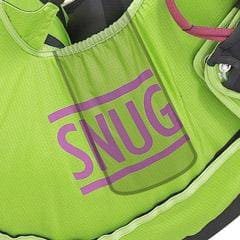 EZ-zip/Organizer
270-degree EZ-zip backpack and built-in organizer for fast assembly and packing up.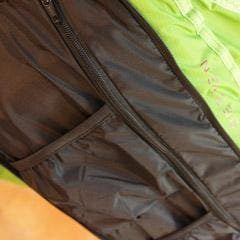 Skid Guard
Cordura 500D reinforced skid guard.
Elastic Speed Keeper
An ingenious system of pulleys and elastic cord now keeps the speed bar where you want it without using velcro. Now with the BGD Elastic Speed Keeper, the speed bar glides smoothly out and effortlessly slips back into place and never falls out to tumble around your legs.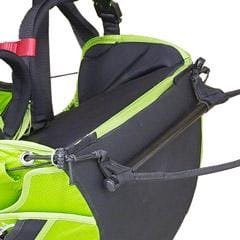 Karabiners
Strong and light 22kn Edelrid aluminum Karabiners.
Buckles
18kn patented AustriAlpin COBRA™ quick releases buckles.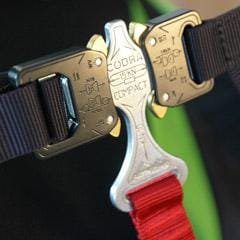 Adjustable
Designed for all shaped of pilots the harness has 25cm of shoulder adjustment and 10 cm of rotational adjustment.
PACKAGE INCLUDES
Harness / Back protector / Reserve handle and accessories / 2 x Aluminum karabiner – Edelrid / Giveaway / Stickers / Manual card
MATERIAL
| | |
| --- | --- |
| OUTER SHELL | Nylon fabric 210D ripstop; Dominico Textile, South Korea |
| UNDER SECTION | Cordura ® 500D; C.F. Weber, Germany |
| KARABINERS | EDELRID GmbH & CO. KG, Germany |
| PULLEYS | Ronstan, USA |
| BUCKLES | AustriAlpin COBRA™ |
| WEBBING | Mouka Tisnov, Czech Republic |
| ZIPPERS | YKK |
| FOAM | Vita, Poland |
Downloads: