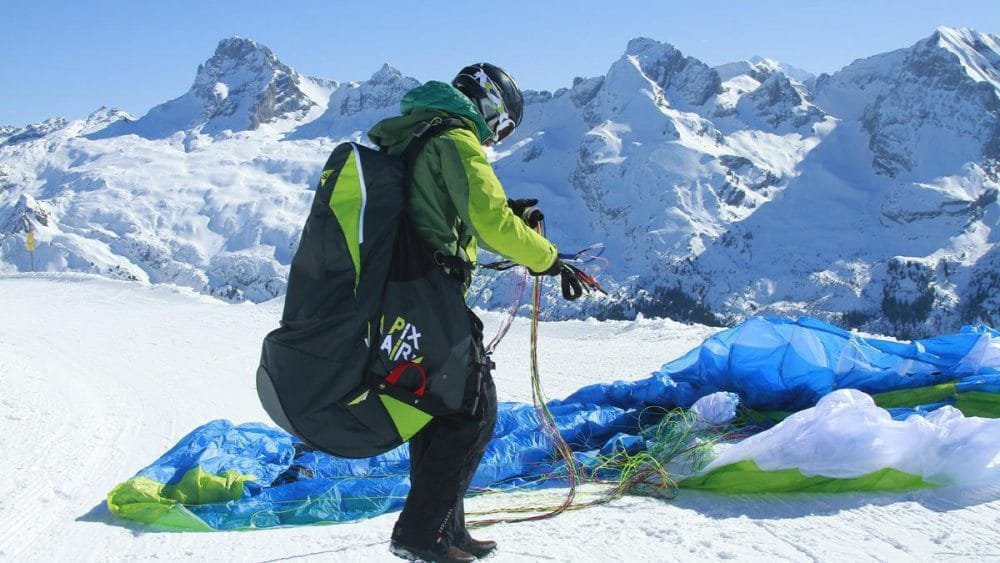 How to choose your harness – Paragliding Tips:
Your paragliding harness has a massive effect on your overall performance. Some harnesses can help you gain stability, safety, and comfort. Others might not be as comfortable — but definitely make up for it with their performance capabilities! It's important to understand your intended use for your gear, so you can best choose the equipment suited for it.
In this blog post, you'll learn how to choose your harness, what you should consider, and learn what's the best type of paragliding harness for you and your paragliding experiences!
Define your priorities before looking for your paragliding harness
Many things can play a role in your decision to buy a specific type of harness, and each pilot has different wants and needs! Your harness demands will come from a variety of factors, from sizing to skill level. With so many harness options on the market, it's crucial to define your priorities before looking for a brand or product.
What to consider to choose your harness?
Your preferred harness type: standard upright, pod or specialist harness

Your leg strap preference: ordinary, V-style, T and so on

Additional aspect preferences such as back protection, reversible, seat board, etc.

The comfort level for the harness structure and its purpose
Some other questions to ask yourself when choosing your paragliding harness:
Do you need to worry about the weight of the harness? For example, do you plan to hike uphill carrying it on your back along with all of your other gear for hours? Do you have a bad back or pre-existing conditions that might tire you out faster? Then finding a lightweight harness is vital in keeping your energy levels up for your flight post-hike to your launch site!

How long are your flights? The answer to this question allows you to assess how important comfort is for you. If they're long — opting for a slightly heavier but much comfier paragliding harness might be more beneficial (and make for a much more enjoyable flight!)

Is safety your primary goal in buying a new harness? If so, a harness with a structure that promotes the highest back protection might be better for you and your needs.





Now that we've answered our base functionality questions for selecting our most optimal harness, let's look at the different types of harnesses, and their offerings!
Types of paragliding harnesses
Standard Upright Harness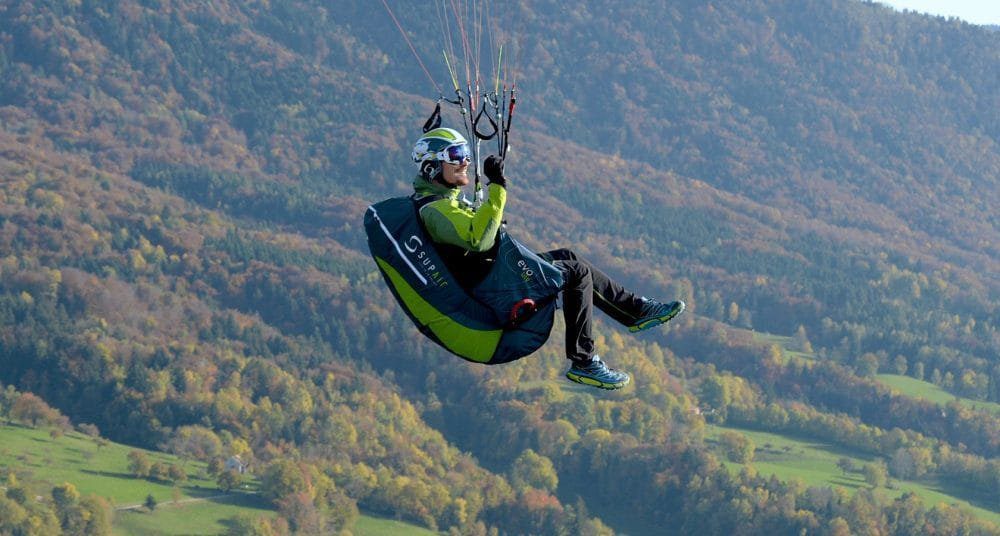 With an upright harness, the seat hugs your body while your legs are free. This makes it much easier for you to land and recover from extreme situations. This type of harness is typically viewed as the perfect harness for beginners and recreational pilots for its ease of use/set-up and functionality for landing!
The standard upright harness helps you hone your piloting skills and develop the right flying habits, which will be a fantastic advantage when you are ready to progress.

Supair carries some of the best upright harnesses in the market with quality materials and craftsmanship. You can check out our selection of Supair harnesses here.
Pod harness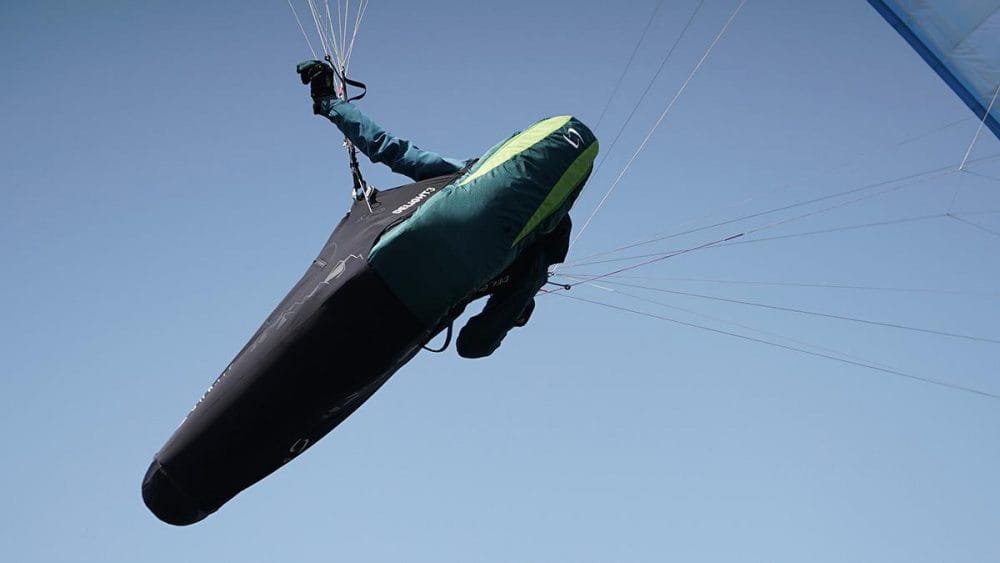 This type of harness gives the pilot a reclined sitting position and a leg fairing. It's important to note that although pod harnesses can deliver in comfort and performance (especially during long flights) they require way more piloting skills and experience than the standard upright harnesses. 
Pod harnesses are more complicated when it comes to take-off, which is why they are not recommended for beginner pilots. They can also sometimes be unstable in severe conditions (which is why we recommend these harness types to pilots with a higher skill set). While you will get warmer and reduce drag during your flight with this harness type, they typically add extra weight compared to other harness types.
It might take you some time to get used to this pod type of harness, but when they are set up correctly, these pod harnesses can provide you with superior performance.

Today the competitive nature of the sport of paragliding has pushed designers to come up with extreme, fun, and functional designs for pod harnesses – like the Submarine from Ozone! This harness drastically reduces drag by creating a fully inflated enclosure around the pilot without compromising safety.

Just look at this cool design imaged below – doesn't it look like something you want to be in for your next glide?!
Specialist harness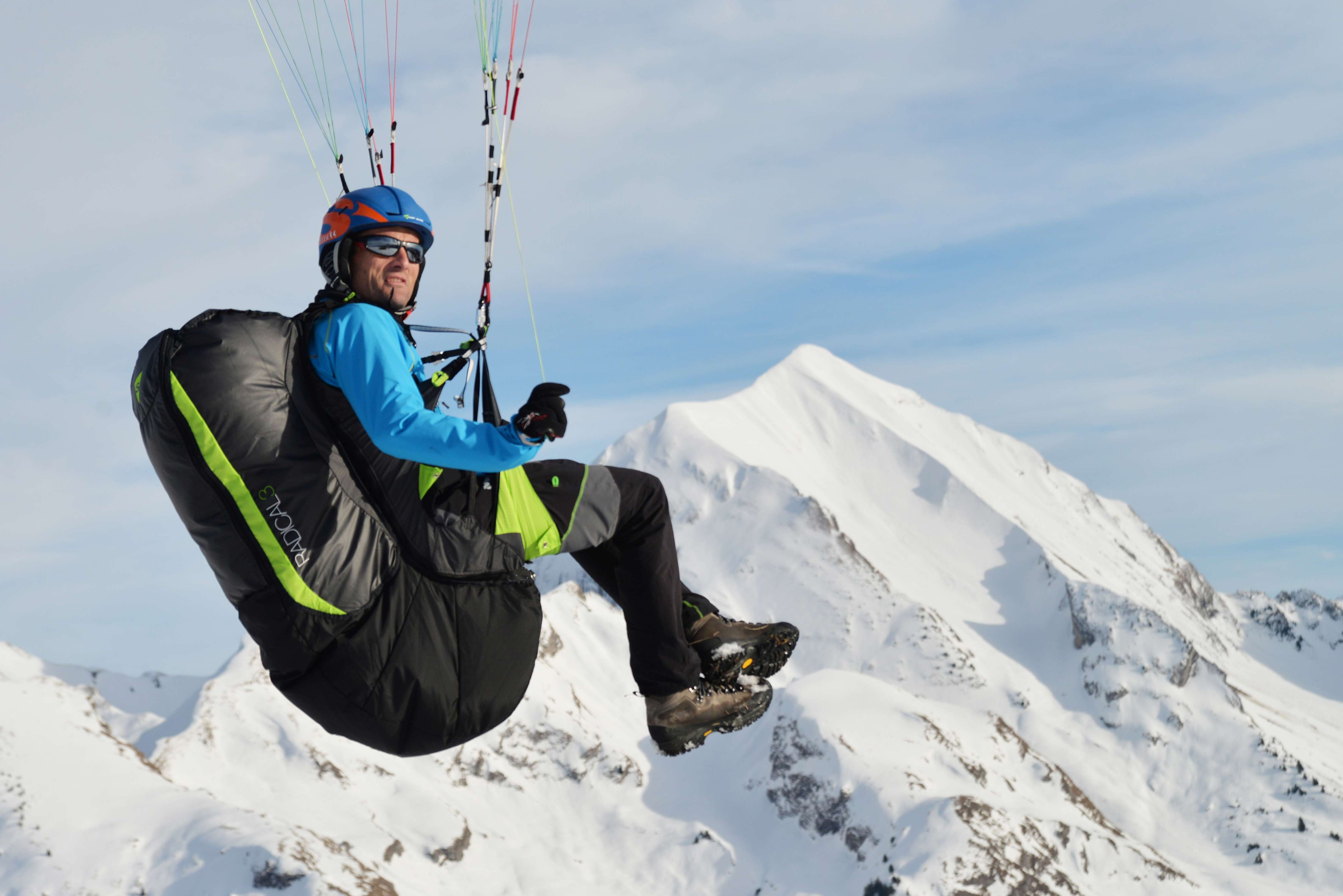 As you know, there are many subcategories to the types of flying you can achieve when it comes to paragliding. Below we have linked different types of harnesses that are best suited for each subcategory:
These are only a few of many amazing harness products we have suited for many different flying needs. Most often, these paragliding categories require specific equipment and compromises. For example, pilots that need as little extra weight as possible will typically exchange comfort and durability for a lightweight harness. You can browse our lightest harnesses here!
What's the type of harness you are looking for?
Size and fitting
Yet another factor to consider when looking into purchasing a new harness: Sizing and fitting.  There's no such thing as one size fits all for paragliding harnesses. Your harness needs to be the perfect fit for your body. Small pods will be uncomfortable and tight to the pilot, while large ones may make the pilot slide around. What does the perfect size and fit feel like in a paragliding harness? The harness needs to hug you while also being easy to get in and out of!
Make sure your harness:
Supports your hips and back

It is easy to get in and out of

Has appropriate leg support that fits your thigh length
Each manufacturer might have different sizes when it comes to S, M, and L – so it is important to check the dimensions of products if you are trying out a new brand. Harnesses usually have many points of adjustment to increase comfort, safety, and performance – this can also affect what fits you best! The best thing to do to make sure you're buying the appropriate size? Try on a few varied sizes and see what you feel fits you the best!
One last consideration to keep in mind when you choose your harness is how it works with the rest of your gear, namely the change in weight and performance.
The best way is always to try on the product (if you can!) with your other equipment. Another great way to check is to hang your harness (in your garage, a tree… etc.) to fine-tune all of the adjustments you need to work best for your body, fit, and with the rest of your gear, to avoid any surprises on your next flight.
When you establish your priorities of what you need (and want) out of your paragliding experience, choosing your paragliding harness will be much easier. Now that you know what to look for in a harness, all that's left is for you to find yours!