Roll over image to zoom in
Click to open expanded view
SUPAIR EIKO 2 ULTRA LIGHT MOUNTAIN GLIDER intended for pilots looking for lightness and compactnes.
HE EIKO 2 IS ABOVE ALL A MOUNTAIN GLIDER, INTENDED FOR PILOTS LOOKING FOR LIGHTNESS AND COMPACTNESS.
Used in the middle or lower end of the take-off range, it is aimed at a wider range of pilots. Inspired by the Eona 3, its ease, stability, inflation provide reassuring efficiency: ideal for progressing thanks to its great adaptability and all-terrain character.
The particularly intuitive and efficient inflation will be greatly appreciated both by pilots in the mountains on take-offs in sometimes complex conditions and by less experienced pilots using the Eiko 2 as a progression glider.
For use in high mountains, small hypalon attachments are sewn onto the top surface. They allow the connection of pins to prevent the glider from slipping and facilitate take-off on steep or snowy slopes. They are simply stuck into the ground to hold the wing in place. They will of course remain attached to the wing so that nothing is left behind in the mountains.
Category : EN-A, B or C depending the size
Weight : 2,45 kg en 19
Sizes : 16 / 19 / 21 / 23 / 26
Colors : Polar / Volcano

TECHNICAL DATAS :
| EIKO 2 | 16 | 19 | 21 | 23 | 26 |
| --- | --- | --- | --- | --- | --- |
| Number of cells | 38 | 38 | 38 | 38 | 38 |
| Flat area (m²) | 16 | 19 | 21 | 23 | 26 |
| Span (m) | 8,76 | 9,55 | 10,04 | 10,51 | 11,17 |
| Chord (m) | 2,27 | 2,47 | 2,6 | 2,72 | 2,89 |
| Flat aspect ratio | 4,8 | 4,8 | 4,8 | 4,8 | 4,8 |
| Projected area (m²) | 13,56 | 16,1 | 17,8 | 19,49 | 22,03 |
| Projected span (m) | 6,93 | 7,55 | 7,94 | 8,31 | 8,84 |
| Projected aspect ratio | 3,54 | 3,54 | 3,54 | 3,54 | 3,54 |
| Glider weight (kg) | 2,2 | 2,45 | 2,66 | 2,87 | 3,14 |
| Flying weight range (kg) | 50-90 | 50-90 | 60-85 | 70-95 | 80-110 |
| Certification | EN – LTF C | EN – LTF B | EN – LTF A | EN – LTF A | EN – LTF A |
| Number of risers | 3+1 | 3+1 | 3+1 | 3+1 | 3+1 |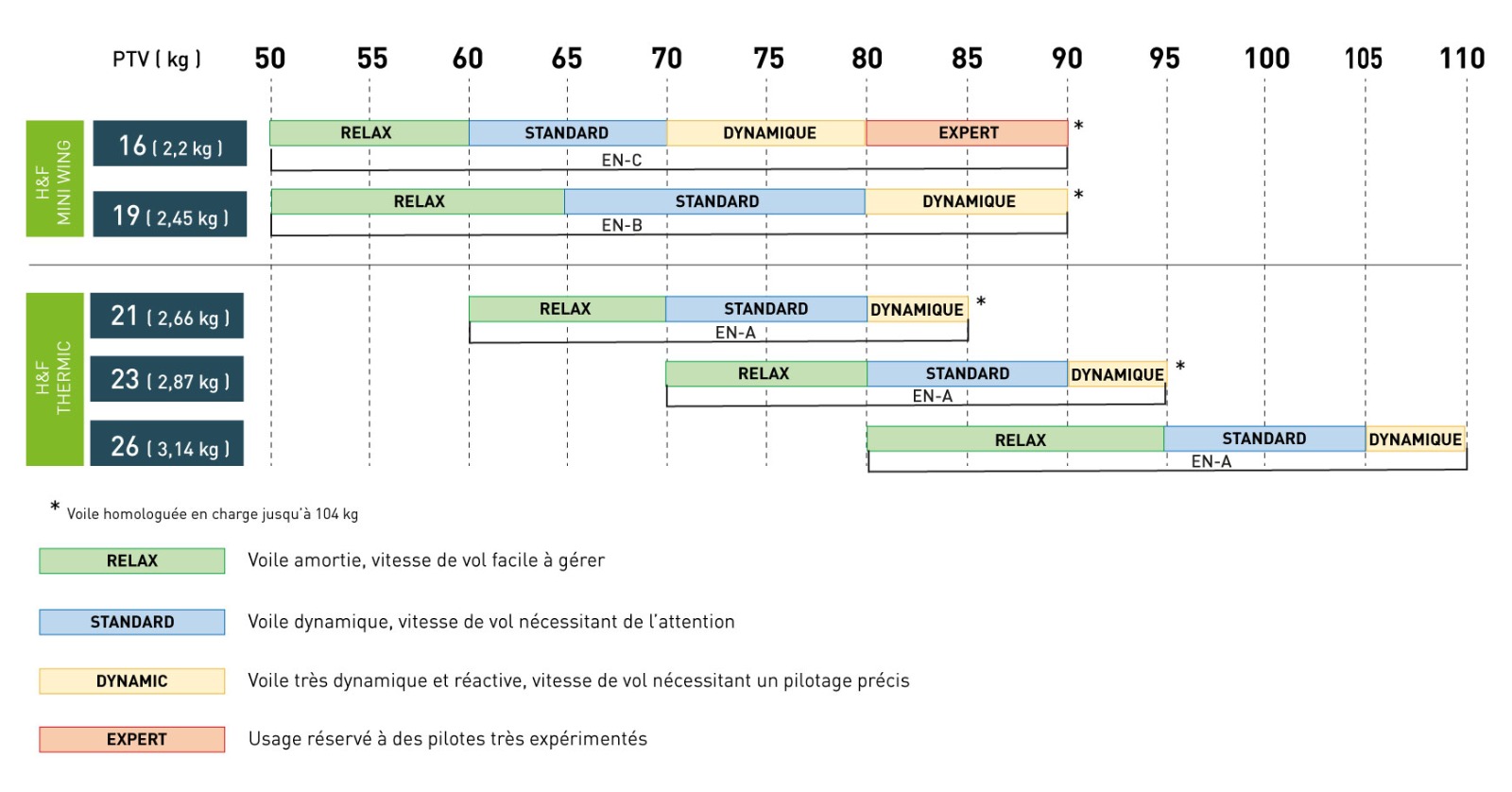 CHARACTERISTICS :
Piloting
Beginners and leasure pilots, or experienced pilot depending the glider size
Foot launch or tow launch
Equipment
Ergonomic risers
Sharknose
Big-ears kit
Materials
Outter surface fabric : Porcher sport
Inner surface fabric : Dominico 10 D
Walls fabric : Porcher Sport
Reinforcements fabric : Porcher Sport
Upper and intermediate lines : Edelrid
Lower lines : Edelrid
Certification
Norme EN 926 – 1 et 2 et LTF 91/09 – Classe A, B or C
COMPOSITION :
Glider EIKO 2
Trek 25/30 L backpack
Internal bag/li>
Pins to hold the wing
Speedbar
User's manual (USB)
Repair kit