Roll over image to zoom in
Click to open expanded view
OZONE OZIUM 2 Light Pod Harness
$1,350.00
OZONE OZIUM 2 Light Pod Harness
The Ozium 2 is an incredibly lightweight XC pod harness that is designed for adventure flying. The Ozium series concept has been proven during several years of intense vol-biv flying, and two editions of the RedBull X-Alps, the toughest and most brutal adventure race in the world. We took the X-Alps prototypes and added a bit more durability and user-friendliness, making it an excellent choice for pilots seeking a lightweight pod system that is comfortable and features a very low pack volume. The Ozium 2 builds on the success of its predecessor with added features, refined geometry, and improved adjustment systems. In addition, it is even lighter. Pilots can now choose from a wide range of pod options – the interchangeable pods allow a customised level of durability and warmth in the air, and easy replacement.
These refinements and added features are present even though the overall weight has been decreased. With the standard pod option, medium size, the Ozium 2 weighs in at just 2.46kg, 140g lighter than the original Ozium.
TECHNICAL DATA
RECOMMENDED SIZING
Pilot Height (cm)

Harness Size

Pod Size

Weight with
Lycra Pod (kg)*

Weight with
570 Pod (kg)*

Weight with
720 Pod (kg)*

155-165

S

S

2.36

2.39

2.65

160-175

M

S

2.40

2.43

2.69

170-185

M

M

2.46

2.49

2.74

180-195

L

M

2.50

2.53

2.78

190-205

L

L

2.53

2.56

2.82
SPECIFICATIONS
| SIZE | S | M | L |
| --- | --- | --- | --- |
| Harness, Karabiners, Reserve Bag & Handle (g) | 1,300 | 1,340 | 1,380 |
| Pod Lycra [light] (g) | 540 | 570 | 600 |
| Pod 570 [midweight] (g) | 570 | 600 | 630 |
| Pod 720 [warmest] (g) | 690 | 730 | 770 |
| Lightweight Foam [standard] (g) | 320 | 320 | 320 |
| High Density Foam [option] (g) | 580 | 580 | 580 |
| Polycarbonate Backplate [option with the lightweight foam] (g) | 195 | 195 | 195 |
| Polycarbonate Footplate for Lycra & 570 [standard] (g) | 110 | 135 | 135 |
| Polycarbonate Footplate for 720 [standard] (g) | 185 | 200 | 200 |
| Carbon Footplate for Lycra and 570 [option] (g) | 90 | 100 | 100 |
| Speed System for Lycra & 570 Pod (g) | 30 | 30 | 30 |
| Speed System for 720 Pod (g) | 70 | 70 | 70 |
| Cockpit Foam for Lycra & 570 Pod (g) | 60 | 60 | 60 |
| Cockpit Foam for 720 Pod (g) | 80 | 80 | 80 |
* Weight includes all standard options: Lightweight Foam, Alu Karabiners, Pod incl. Cockpit, Cockpit-Foam, Speedline incl. 2 Brummel Hooks, Polycarbonate Footplate, Bridle-Line, Rescue Handle & Inner Container.\
COLOUR OPTIONS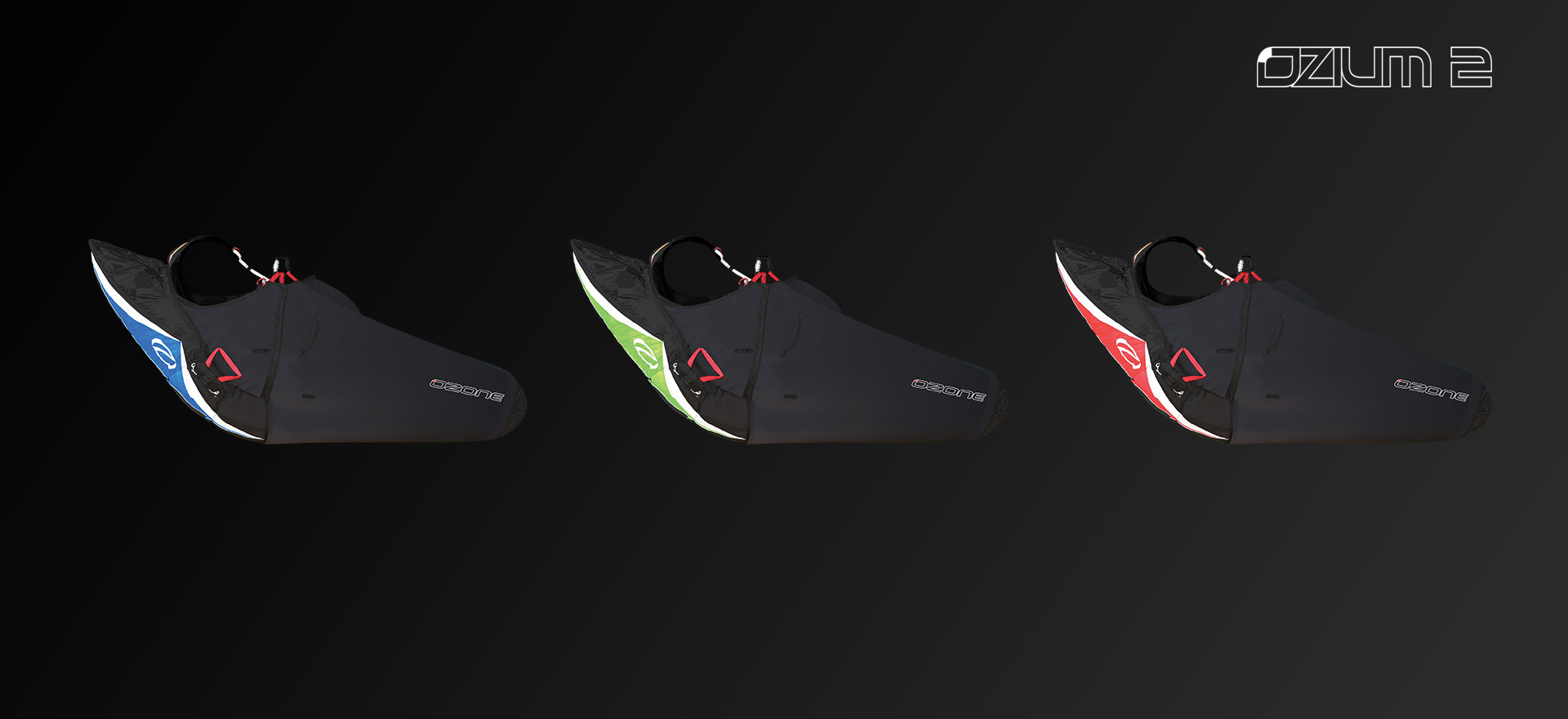 CONSTRUCTION & DESIGN
The Ozium 2's seatboard-free design not only keeps weight to a minimum, but also provides a comfortable, well-balanced feel in the air with just the right amount of sensitivity. With the pod length adjusted properly, the Ozium 2 can be flown with a very relaxed body position, allowing the pilot to recline effortlessly into the back-section of the harness with hammock-like support from shoulders to heels without compression. This relaxed body position is key for long XC flights.
A polycarbonate footplate is included as standard but an ultra-light carbon version is also available as an option. The Ozium 2 also includes a lightweight integrated cockpit for instruments, an integrated speed-system, lightweight aluminium karabiners, and a hydration access system consisting of an inner pocket in the back of the harness with an opening and anchor points for your hydration tube. On the opposite shoulder strap, there is a mounting point for a lightweight vario or emergency beacon.
The main surfaces of the harness are built from a 210 denier ripstop with a long track record of durability. The lightest pod option is made from a flexible Lycra material which requires a certain amount of care, but should last for several seasons of use. The pod is also a fully replaceable part of the harness. The load bearing structure of the Ozium 2 is made from a mix of 15mm and 25mm webbing, optimized for strength, weight, and durability. In addition to the main dorsal storage pocket, there is an additional compartment beneath the seat and on both sides of the harness, which feature loops to secure items in place.
POD OPTIONS
The Ozium 2 offers an interchangeable and customizable pod system. You can choose between three different pods when ordering your Ozium 2:
Lycra Pod: The Lycra pod is the lightest weight version. Ideal for vol-biv and lightweight enthusiasts, it offers the lowest pack volume and weight.
570 Pod: The 570 is a mid-weight option that offers more warmth and durability than the Lycra.
720 Pod: The 720 is the thickest and warmest pod that can be used for the Ozium 2, designed for pilots who prioritize durability and warmth.
BACK-PROTECTOR
The Ozium 2 comes with a foam back protector certified EN and LTF. Cleverly designed, it offers excellent impact absorption properties despite its low weight and volume.
A rigid back plate is available as an option for the standard back protector only. Located under the seat, above the back protector, the plate improves the overall comfort and protection levels of the harness, whilst the added rigidity gives a more direct, responsive feel to the air and weightshift.
Also available is the 'Full Mousse' option. EN/LTF certified, it offers higher levels of comfort than the standard protector with slightly more volume.
Flybubble recommend that pilots choose the 'Mousse Full' option as this offers the best level of comfort and protection that this harness can be configured to provide.
REAR-INTEGRATED RESERVE COMPARTMENT
The Ozium 2's updated reserve compartment is based on the Forza system. It will fit reserves up to 5L in volume, which is enough for modern Rogallo designs or the Angel SQ 140 (for in-flight weights of up to 140kg). To help your reserve fit and deploy properly, a dedicated reserve deployment bag comes standard with every Ozium 2. The deployment system is efficient and easy to operate and the handle is well secured but easily deployed. The Ozium 2 is delivered with ultralight reserve bridles.
ADJUSTMENTS
The Ozium 2 can be fully adjusted in flight, including the chest strap, shoulder straps, lower back-strap, and legs. However, it is important to carefully adjust your harness in a simulator prior to your first flight. We do not recommend making extensive adjustments to the seat-height, as it has been carefully tuned by our R&D Team. The length of the pod should be adjusted to your measurements before flying.
Downloads