Roll over image to zoom in
Click to open expanded view
$849.00
Flytec Naviter Hyper's thermal assistant will help you accurately core and optimize thermals.
Flying around your local site, setting records, Bivvy flights.
Sunlight-readable hi-res transflective color display
Glove-frienly touchscreen
Worldwide terrain map
Hike-and-fly mode
Battery life >12 hours, >36 hours hike & fly mode
Flytec Naviter Hyper – Light, simple, powerful
The Flytec  Naviter Hyper is perfectly suited as a stand-alone instrument for everyday use and its pocket-size also makes it perfect for Hike and Fly adventures, or as a backup for your Oudie or 6030. It will show you the way to a waypoint, around a route and avoid complex airspace.
Hyper's thermal assistant will help you accurately core and optimize thermals. Whether you are flying around your local site, setting local, state or world records or on a Bivvy week-end, the Hyper will automatically record all the details of your flight up to 36 hours without battery back-up.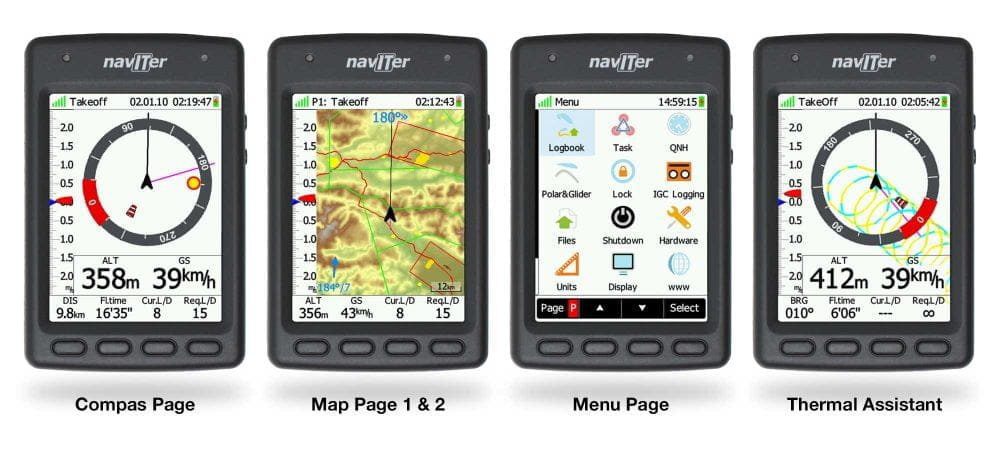 Compass page:
Instant and average vario Goto Heading and bearing to the target Direction to last thermal and wind speed/direction 6 user-selectable data fields
Map page 1 & 2:
Instant and average vario Goto Moving map (terrain, roads/cities, airspace) Map scale can be independently set for map page 1 & 2 Windspeed/direction 4 user-selectable data fields per page
Menu page:
Set-up and customize Access additional functions,
Thermal assistant:
Compass page with your track color-coded according to climb strength
Quick goto:
One button press to set goto: Back to the takeoff point Task point Waypoint Back to last thermal Cancel goto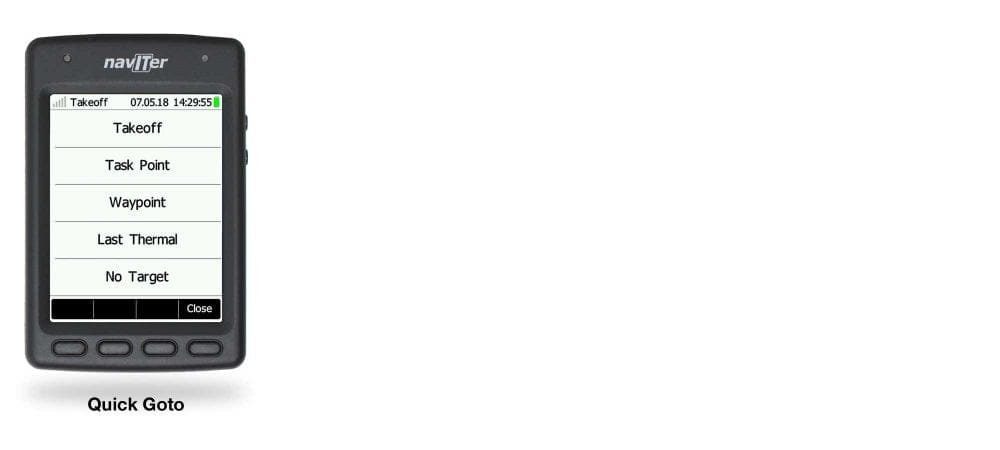 Sunlight-readable hi-res transflective color display
Glove-frienly touchscreen
7 physical buttons (4 contextual + 2 dedicated volume + power)
Customizable user-interface
Thermal assistant
Wind speed and direction
Direction to last thermal
Wifi and Bluetooth connectivity
Preloaded airspace
Worldwide terrain map
Hike-and-fly mode
Battery life >12 hours, >36 hours hike & fly mode
Size (107 x 70 x 18 mm)
Weight (135 g)
Software updates via USB or Naviter updater utility
Software updates via WiFi in development.