Roll over image to zoom in
Click to open expanded view
BGD LINK Harness EN/LTF – SHARE THE CONNECTION.
Specifically designed for you and your passenger the LINK harness series works seamlessly together, maximising comfort, safety, and pleasure.
Comfort Handles (PASSENGER)
Left or Right Reserve Handle (PILOT)
Velcro Skid Guard (BOTH)
Split Legs (PILOT)
Easy Tilt Seat (PASSENGER)
INFO
LINK harnesses are a light and comfortable tandem harness pair, ideal for professional and leisure flying. Thoughtful design features including an easy-tilt seat on the PASSENGER for effortless transitions from standing to seated and a lightweight honeycomb seat boards. It has comfort handles for the passenger to hold onto, and an instrument mount on the back is ideally placed in the pilot's field of vision. The PILOT harness has split legs.
For protection, the PILOT harness can be ordered with either a 17.5cm foam protector or a weight-saving airbag. The lower back area of the PASSENGER harness is kept clean so as not to encumber the pilot, and the passenger is protected by an under-seat mousse protector.
The LINK harnesses are made using top quality lightweight materials and components. If well looked after they offer good longevity but as with all lightweight products, they must be treated with care.
Please note: the PASSENGER harness is not designed to withstand repeated seat-landings. Doing this will eventually damage the protector.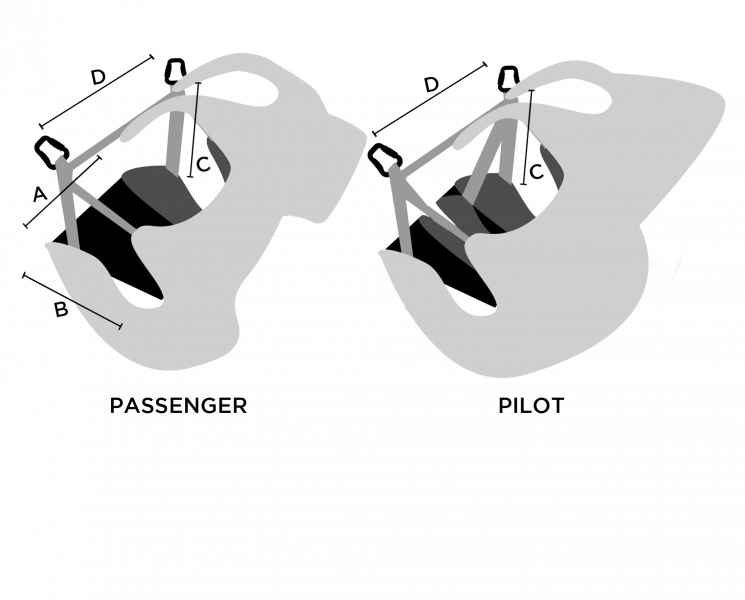 SPECS
PASSENGER
PILOT
PILOT'S HEIGHT RANGE (CM)
150-190
160-195
BOARD WIDTH (CM)
35
BOARD DEPTH (CM)
40
HEIGHT OF SUSPENSION POINTS (CM)
50
45
CHEST STRAP RANGE (CM)
38-54
36-52
HARNESS WEIGHT (KG)
2.6
2.7
CERTIFICATION
EN/LTF
Colors
AQUA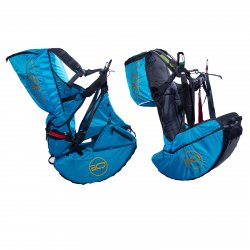 PINE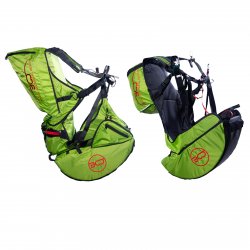 TARGET
The LINK PILOT and LINK PASSENGER are lightweight, robust, comfortable, and safe harnesses for professional and recreational tandem pilots who want the best equipment for their tandem setup. Designed to fit seamlessly together the LINK series have vibrant matching colours, innovative features, and essential standardisations.
DESIGNER'S NOTES
Tandem paragliding provides different things for different people, but one thing that's constant is, it's always about sharing an experience. Professional tandem pilots have the honour of giving lots of different people their first ever taste of gravity-defying liberty; the first time their feet have ever swung free in the air and soared above the landscape. For others, it's a regular partnership. A parent and offspring, couple or friends, sharing adventures for the umpteenth time.
Every pilot wants their passenger to revel in the awesomeness of the flight. Whatever their shape or size, whether they are nervous or excited or just plain blown away with it all, what they must be is comfortable and secure. The LINK harness series are designed as a pair to fulfil the needs of both pilot and passenger. It's a shared thing. The LINK series is thought-through and loaded with features to make all your tandem flights comfortable, safe, and fun.
PACKAGE INCLUDES
Harness / Back protector / Reserve Handle and Accessories (PILOT) / 2 x Aluminum karabiner – Edelrid / Giveaway / Stickers / Manual card
MATERIAL
| | |
| --- | --- |
| PULLEYS | Ronstan, USA |
| BUCKLES | AustriAlpin COBRA™ |
| ZIPPERS | YKK |
| OUTER SHELL | Ripstop Nylon 210 & Cordura |
| WEBBING | 25mm & 40mm Polyester |
| SEAT BOARD | Honeycomb Design / Split leg |
| KARABINERS | Edelrid Alias |