Roll over image to zoom in
Click to open expanded view
BGD DUAL LITE EN/LTF-B
Specifically designed for adventure teams we have optimised performance, weight, and safety making hike-and-fly, vol bivouac, and big XCs easier.
Cord cut billow (CCB)
Elliptical cell openings
Effortless two-step launch
Smooth relaxed feel
INFO
Extra water, food or wine could make up for the almost 1.1kg of weight we have skimmed off the DUAL (without losing much durability). With a mix of carefully allocated 27, 34, and 40 gram cloth the EN-B certified DUAL LITE feels like its parent – power steering, loads of feedback, and efficient characteristics.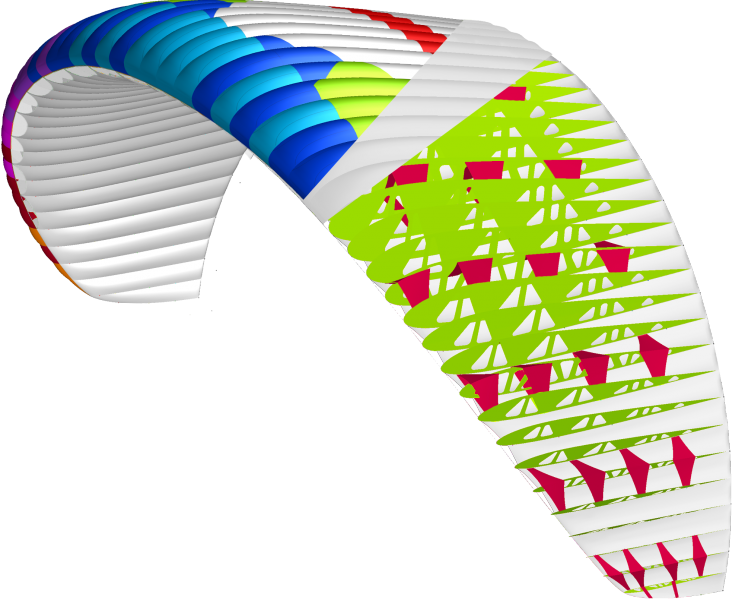 SPECS
| | 40 |
| --- | --- |
| LINEAR SCALING FACTOR | 1 |
| PROJECTED AREA (M²) | 34.3 |
| FLAT AREA (M²) | 40 |
| GLIDER WEIGHT (KG) | 6.4 |
| TOTAL LINE LENGTH (M) | 450 |
| HEIGHT (M) | 9.4 |
| NUMBER OF MAIN LINES (A/B/C) | 3/4/3/2 |
| CELLS | 52 |
| FLAT ASPECT RATIO | 5.3 |
| PROJECTED ASPECT RATIO | 3.9 |
| ROOT CHORD (M) | 3.5 |
| FLAT SPAN (M) | 15.6 |
| PROJECTED SPAN (M) | 11.5 |
| TRIM SPEED (KM/H) | 42 |
| TOP SPEED (KM/H) | 52 |
| MIN SINK (M/S) | 1 |
| BEST GLIDE | 9 |
| WEIGHT RANGE (KG) | 120-220 |
| CERTIFICATION | EN/LTF-B |
Color
TULIP
TARGET
If you have a lightweight tent (for two), two -10 degree sleeping bags, a gas burner, a couple of reversible harnesses, a GPS tracker and two flexible jobs, the DUAL LITE is for you. The DUAL LITE is designed specifically for adventurous teams. Its performance, safety, and weight have been optimised for long vol-bivouac flights and hike-and-fly.
BRUCE'S NOTES
Just after Tyr was born I was trying to convince Arna that paragliders are as nice as hang gliders. I wanted to charm her into the sport with a lovely XC flight. We took off one sunny morning from Séderon, France and headed into the heart of the Vercors. It was a glorious flying day. We soared low and slow along cliffs and over grazing deer. We caressed the cumulus clouds with our wing tip. I wanted to show her that flying a slow aircraft could be really rewarding. She enjoyed it so much she was constantly attempting to back/front-seat-pilot the tandem. She soon realised it was best to just let go and enjoy the strong thermals. 80km and five hours later, slightly sore but glowing, we landed in La Chapelle-en-Vercors next to a perfect little restaurant where we had dinner. Arna now flies an EN-B Wasp and is a part owner of BGD. I think I convinced her.
I designed the DUAL LITE to help convince friends/partners/spouses that paragliding is a convenient, adventurous sport. Whether it is a simple hike-and-fly or a long vol-bivouac expedition the DUAL LITE delivers. Like the DUAL, the DUAL LITE is a wing that has a very clean leading edge (Cord Cut Billow) making the low cell count (50 cells) feasible thus reducing the weight, line consumption and complexity of the paraglider. I think the DUAL LITE really benefits from the DUAL's renowned light handling. Its launching characteristics even surprised me – the wing floats up with very little effort from the pilot.
FLYING LEVEL / STYLE
BEGINNER
INTERMEDIATE
ADVANCED
CROSS COUNTRY 90%
HIKE & FLY 100%
FREESTYLE 30%
PARAMOTOR 90%
GROUND-HANDLING 90%
LEARNING 50%
PACKAGE INCLUDES
Paraglider / BGD Giveaway / Rucksack / Light Spreaders / 2 karabiners / Replacement Trimmers / Repair kit / Stuff sack / Riser bag / Compression strap / manuals / BGD stickers
MATERIAL
| | |
| --- | --- |
| TOP SURFACE | Porcher Skytex 27g/m2, 40g/m² |
| BOTTOM SURFACE | Porcher Skytex 27g/m² |
| INTERNAL STRUCTURE | Porcher Skytex hard finish 32g/m² |
| NOSE REINFORCING | Plastic wire 2,0 / 2,5mm |
| RISERS | 20mm Kevlar / Nylon webbing |
| PULLEYS | Riley |
| TOP LINES | Liros DC |
| MIDDLE LINES | Liros TSL |
| LOWER LINES | Liros TSL |
| BRAKES | Liros DSL, PPSL |