Ascent Variometer, All Variometers
Ascent H2 Variometer
The Ascent H2 variometer is a very versatile unit. User-friendly, with a lot of features to optimize your flight.Can be wear on your wrist like a watch or attached to your risers.
Description
Ascent H2 variometer
The Ascent H2 is a unique variometer very user-friendly. It is very versatile so you can wear it like a watch, strapped to your leg, attached on your cockpit on even to your riser.
It has a lot of features for his small size like:
flight log,

GPS 

True MSL Altitude (or altitude relative to launch depending on settings)

Average vertical speed

Ground speed (Instantaneous)

Glide ratio

Wind direction and air speed
It's very easy to use and navigate on the screen even with gloves. The Screen is incredibly easy to read for his size, and we did not have any issues it with all different kinds of conditions in sunny or cloudy days.
We used the H2 flying paragliding and paramotor, and we loved the fact that we can put it anywhere and in our flying suit pocket when we were done with our flight. After with we can just plug it in our computer and see all the details of our flight to make a proper analysis of the flying conditions and compare it with the feeling we had. 
For each flight
FLight

log Number

Launch date

launch time

Flight duration

maximum distance from

launch

maximum temperature 

minimum temperature

maximum altitude

maximum

average lift

maximum instantaneous sink

Start (launch) altitude

Max altitude

End (land) altitude

max lift (instantaneous)

max lift average

max sink (instantaneous)
This Ascent H2 variometer is one of our favorite, and we highly recommend it.
The following items are included with the purchase of an Ascent H2 vario:
Wall and car charger

USB cable

Semi-hard storage case

Riser strap

Lanyard
You can compare the Ascent H2 with the Syride SYs NAv 3 or the Skydrop (coming in 4 colors)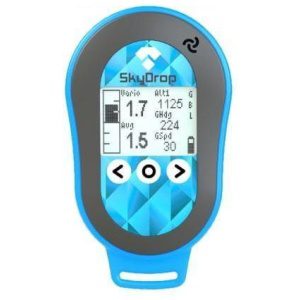 Additional information
| | |
| --- | --- |
| Weight | 0.3 lbs |
| Color | Blue, Green, Grey, Orange, Yellow |